MEET THE ARTIST: A.NICHEL

Master Portraitist & Visual Artist
Hey There! My name is A.Nichel! My upbringing took place in the quaint city of Dolomite, Alabama, under the guidance of a remarkable grandfather and mother who instilled in my siblings and I, a deep understanding of perspective. My artistic journey began at the tender age of 5, but it truly solidified at the age of 13. Despite numerous life challenges, artistry remained a steadfast escape. An associates degree in graphic art communications from Lawson State was a significant milestone. In 2016, a pivotal decision to leave a mundane job led me to a career as a makeup artist, expanding my creative horizons.

Remarkably, I had the privilege of creating art for renowned celebrities like Desi Banks, DL Hughley, Jazze Pha, Debbie Allen, and winning the admiration of Cardi B, Queen Latifah, Deion Sanders, and many others. Throughout this journey, the goal has been to inspire individuals to chase their dreams and perceive life from a fresh perspective. My greatest aspiration is to become a respected artist whose work graces television, movies, magazines, billboards, prestigious galleries and attains worldwide recognition. My secondary ambition involves establishing my own art gallery, providing opportunities for aspiring artists to have their work recognized and displayed in esteemed venues. Furthermore, I aspire to create an educational platform, offering art instruction and life skills, with a particular focus on children's development and survival essentials towards the near future.
Gratitude is extended to GOD for every blessing received, HIS generous favor to speak and guide me in my life with crazy faith, and for the opportunity to be a source of inspiration to others, including you.
"Current culture has two choices; heal or be healed. Art, in its various genres, can be counted on as one of the most innovative forms of healing if we embrace its power."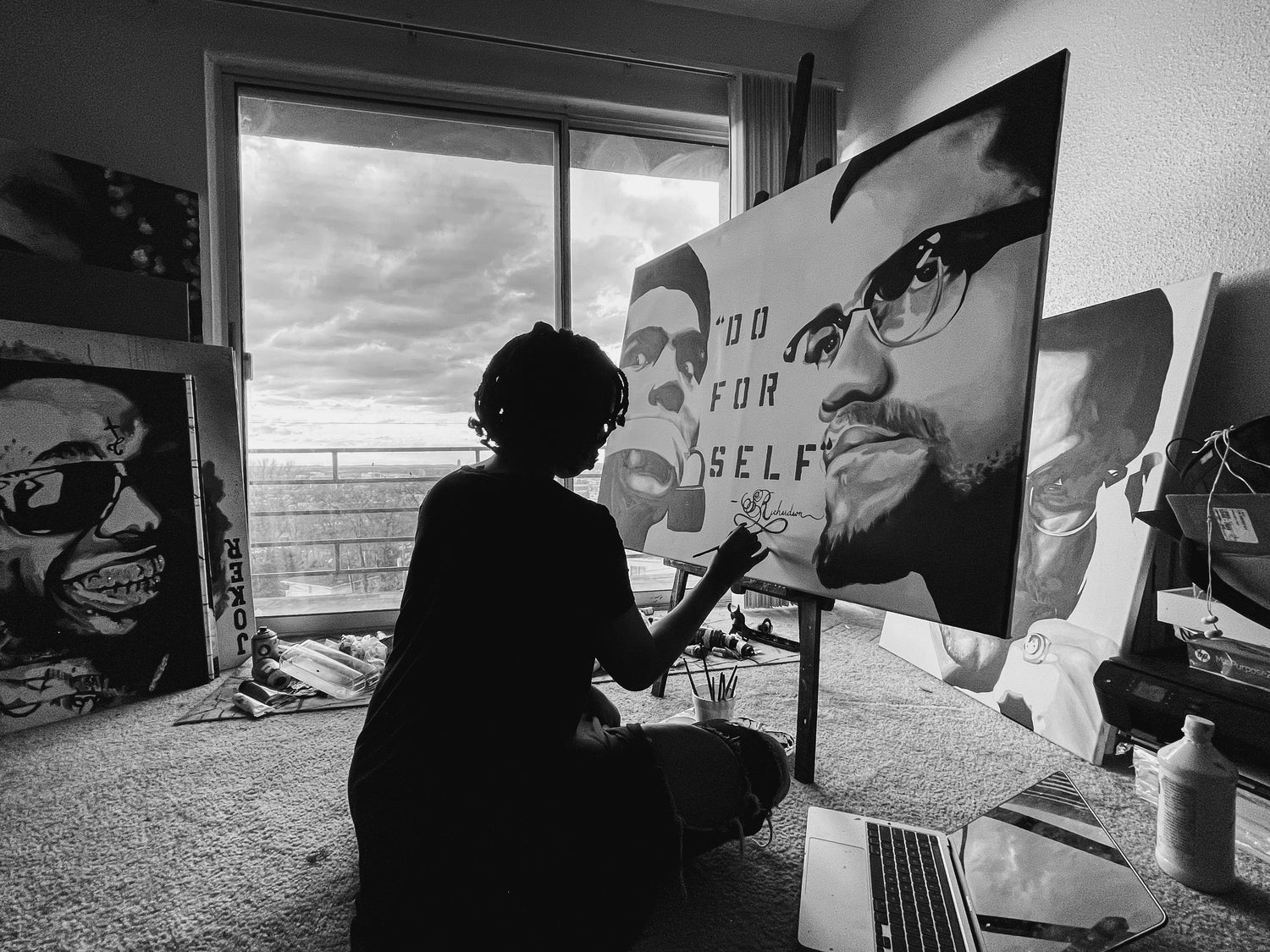 Commissioning Art: Where To Begin
A commission painting is a unique and personalized gift that encapsulates the essence of oneself or a loved one. It preserves cherished memories and celebrates the individual's uniqueness. This custom artwork adds a touch of beauty and sentimentality to any space, becoming a timeless keepsake. It's a heartfelt expression of love and appreciation that resonates deeply with both the giver and the recipient. Ultimately, a commission painting is an investment in creating lasting memories and emotional connections.

✨TO GET STARTED, YOU'LL NEED:
HD QUALITY PHOTO REFERENCE
SIZE (Optional)
DUE DATE (Optional)
SPECIFIC DETAILS (Optional)
If you're inquiring about a high detailed project, live painting, mural art, or collaborations, etc. Please specify the subject matter here.
Commission Artwork Inquiry