Shipping & Return
SHIPPING POLICY
FULFILLMENT 
A.NICHEL Artistry fulfills each order (excluding custom canvases) within 2 - 10 business days (standard domestic) and 2 - 20 business days (international). Your order is unique to us and will take time to produce and ship it out on time.
SHIPPING DELAYS
Shipping orders typically take two to seven business days. However, due to current events, industry-wide shipping delays are occurring. Shipping carriers in North America are tackling a plethora of incoming orders. Millions of shipments are stuck in distribution centers, and tracking links are taking longer than usual to update. The current events have caused your orders to be shipped late and sometimes stuck in pre-transit.
We know how frustrating and disappointing it is to receive your orders late. Thank you very much for your patience while dealing with the events at hand.  
If you have not received your order after two weeks, contact us at a.nichel.artistry@gmail.com. Let us know about your delayed shipment, and we will check it out for you. We may ask you to wait a few more days to receive the order. 
RETURN POLICY
All Sales Are Final. No refunds. Exchanges Only.
A.NICHEL Artistry wants you to enjoy every piece of artistry we provide and understand the disappointment that can come from not receiving what is expected upon delivery. In the event of such rarity, we have options in place to suit your needs.  
​
RETURNS: EXCHANGE ONLY
​
You have thirty (30) calendar days to return an item from the date you received it. If thirty days (30) have passed, regrettably, we will not be able to offer you an exchange.
To exchange your item, it must be unused and in the same condition that you received it. It must be in the original packaging.
EXCHANGES
We accept exchanges for products damaged in transit or if the incorrect item was shipped. If you need to exchange it for the same item, send us an email along with an image of the damaged item at a.nichel.artistry@gmail.com within seven (7) business days of receiving your order. 
Upon receipt of your email, we will review the image and notify you if your item(s) have been approved for an exchange.  
Once approved, you will receive a replacement of the same item, and we will ship it out to you based on our shipping policy.
SALES ITEMS (if applicable)
There are no exchanges on sales items.
CUSTOM CANVAS ORDERs
We currently offer no exchange policy on custom canvas orders. We thoroughly value the service we provide and want you to be HAPPY with your art piece(s). In the unfortunate event of an issue with your order(s), please contact us , and we will be more than happy to find a solution together.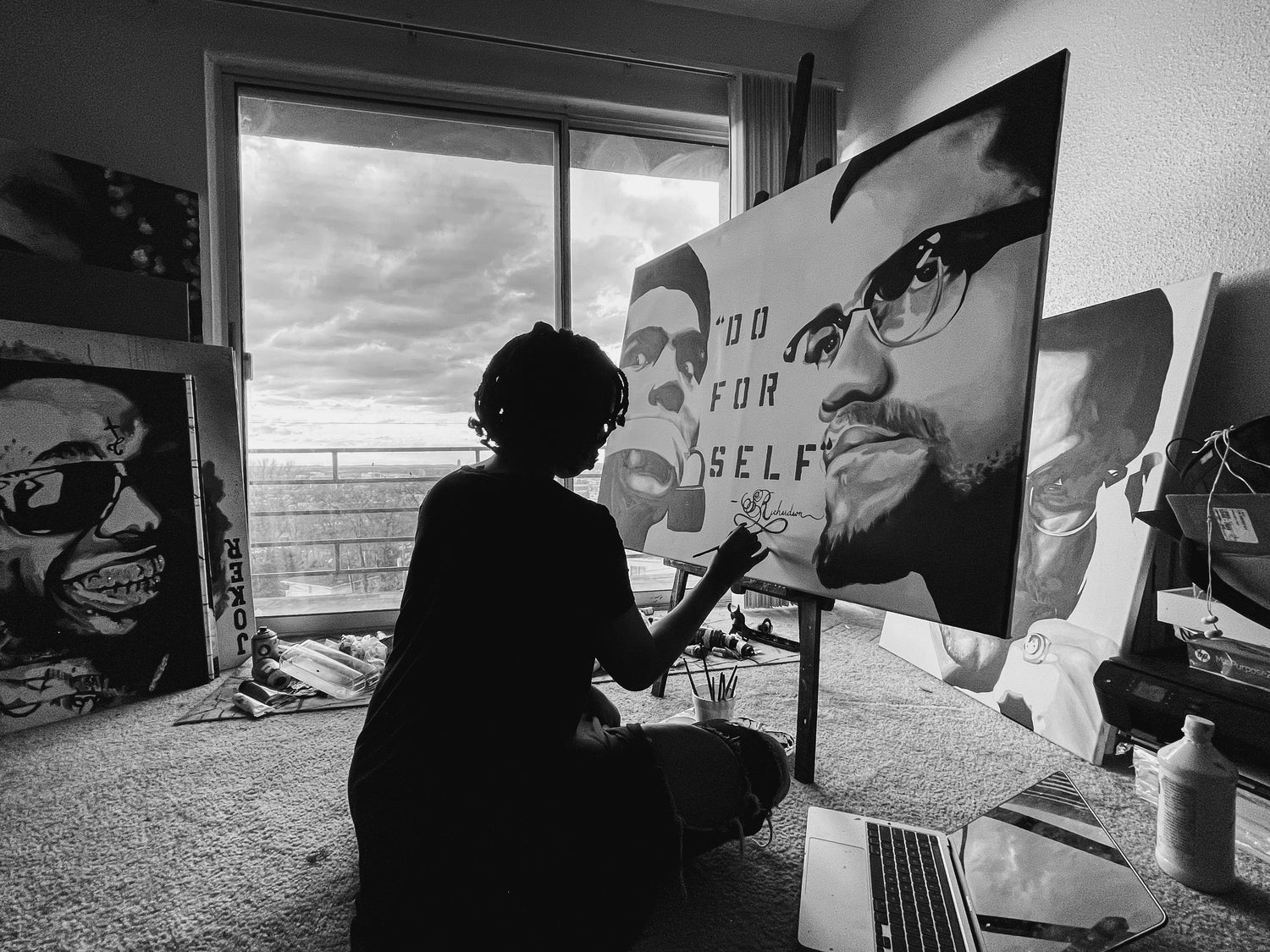 Commissioning Art: Where To Begin
A commission painting is a unique and personalized gift that encapsulates the essence of oneself or a loved one. It preserves cherished memories and celebrates the individual's uniqueness. This custom artwork adds a touch of beauty and sentimentality to any space, becoming a timeless keepsake. It's a heartfelt expression of love and appreciation that resonates deeply with both the giver and the recipient. Ultimately, a commission painting is an investment in creating lasting memories and emotional connections.

✨TO GET STARTED, YOU'LL NEED:
HD QUALITY PHOTO REFERENCE
SIZE (Optional)
DUE DATE (Optional)
SPECIFIC DETAILS (Optional)
If you're inquiring about a high detailed project, live painting, mural art, or collaborations, etc. Please specify the subject matter here.
Commission Artwork Inquiry