MEET A.NICHEL

Master Portraitist & Visual Artist
"Current culture has two choices; heal or be healed. Art, in its various genres, can be counted on as one of the most innovative forms of healing if we embrace its power."
When social media's popular online stage; "the shade room" re-posted a life-sized finger-painted canvas of the late rap star, Nipsey Hussle, more than 17,000 people were subjected to this healing. 

Since then, celebrities such as Cardi B, Trina, Sinbad, and many more, can also attest to this healing as the artistic genius that is A. Nichel, has taken the world by storm. Like many prodigy's, A. Nichel was discovered in the comfort of her living room.
 
After creating portraits of her entire family by hand with distinct precision, they were convinced that the six-year-old phenom had something special. By the age of ten, A.Nichel accepted her gift and was convinced she'd do something great in the future.
The accuracy of her premonition was uncanny, as the now 27-year-old creative, possesses the kind of artistic impressiveness that caused even Wesley Snipes to inquire about her future in film artistry.
​
Since then, A. Nichel has been flown out nationally, hired to paint murals on city walls, and has even been invited to 2015's Heavyweight Champion, Deontay Wilder's home to present a painting, in person.
One of her most treasured pieces to date, is a life sized portrait of one of the four "Kings of Comedy", the legend; Mr. D.L Hugley.
By which she received many accolades from him on her artistic accuracy of his likeness, leaving him to state; "he had never seen any other tribute of him done on that level before".

The genuine request for her unique brilliance is being requested at a rapid pace. She is surely becoming the woman she envisioned at 10. With all her success, she remains grounded. Humbly admitting that her sole intention is to release and inspire people through art. She is honored to see how her painting has brought joy to both the local and celebrity community.

A.Nichel is no one-dimensional woman. Her artistry has a therapeutic purpose, as she advocates for peace in people as a whole; hoping that her paintings channel as a positive distraction from internal pain and chaos from the outside world.
She believes that "if one can capture the eyes, they have an opportunity to capture the mind, and if you capture the mind, art imagery has a genuine chance to invoke purer emotion."

A. Nichel hopes to invoke therapeutic perceptions through her artwork that may change the trajectory of violence and crime amongst humanity. A.Nichel wants people to hear the voice of God through her paintings.

A mandate she has surely fulfilled.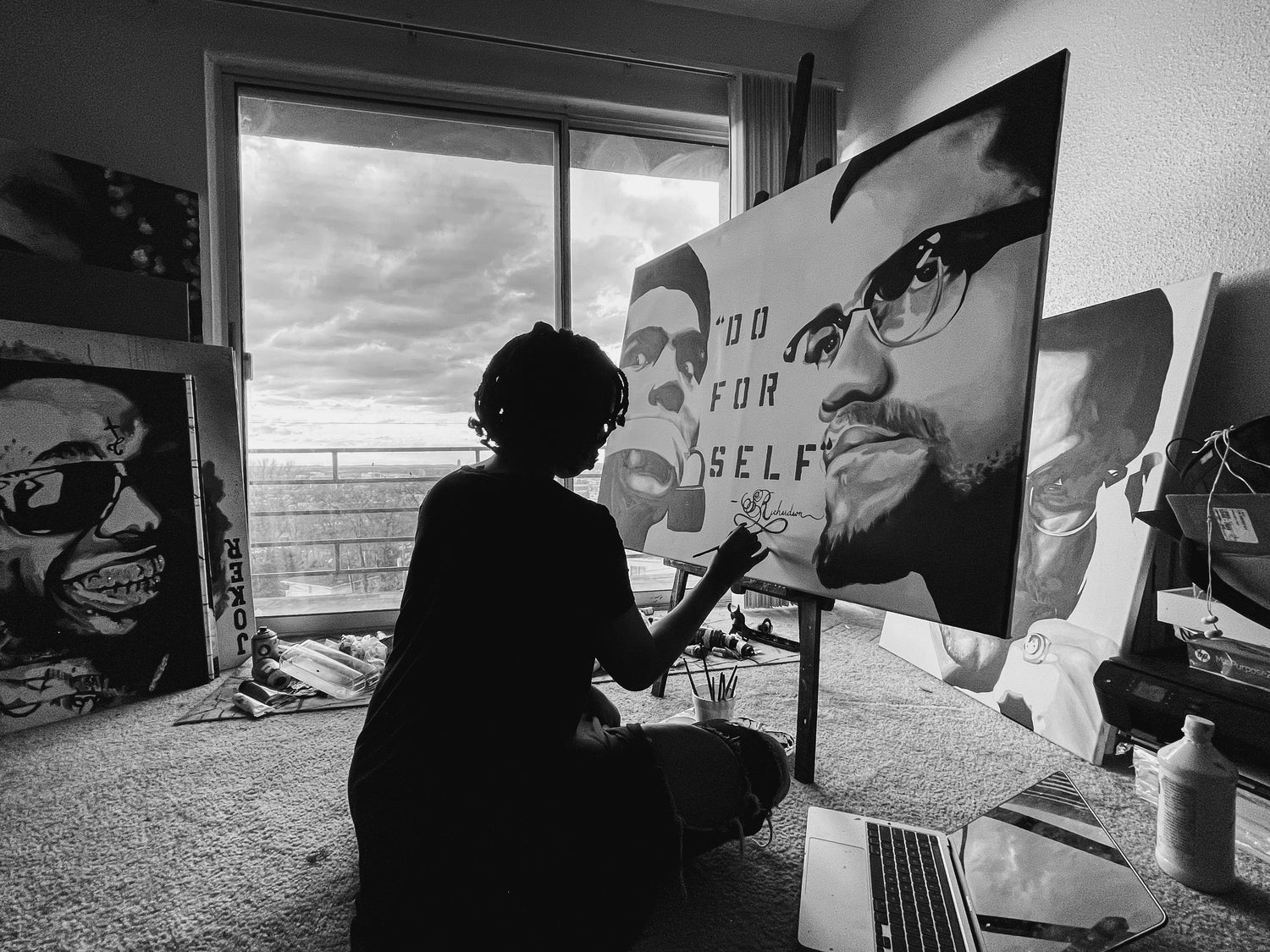 Commissioning Art: Where To Begin
A commission painting is a unique and personalized gift that encapsulates the essence of oneself or a loved one. It preserves cherished memories and celebrates the individual's uniqueness. This custom artwork adds a touch of beauty and sentimentality to any space, becoming a timeless keepsake. It's a heartfelt expression of love and appreciation that resonates deeply with both the giver and the recipient. Ultimately, a commission painting is an investment in creating lasting memories and emotional connections.

✨TO GET STARTED, YOU'LL NEED:
HD QUALITY PHOTO REFERENCE
SIZE (Optional)
DUE DATE (Optional)
SPECIFIC DETAILS (Optional)
If you're inquiring about a high detailed project, live painting, mural art, or collaborations, etc. Please specify the subject matter here.
Commission Artwork Inquiry